---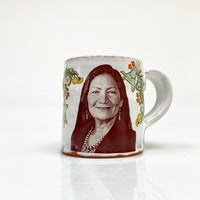 Deb Haaland has been the U.S. Representative from New Mexico's 1st congressional district since 2019. She is a former chairwoman of the Democratic Party of New Mexico and one of the first two Native American women elected to the U.S. Congress. Haaland is an enrolled member of the Laguna Pueblo and a 35th-generation New Mexican. She has been nominated to serve as US Secretary of the Interior. If confirmed, she would become the first Native American to run the Department of the Interior, and the first Native American Cabinet secretary in U.S. history.

This wheel thrown mug is made of earthenware clay and glazed with a glossy white glaze. Deb Haaland is featured as a decal and fired on, permanently affixed in the glaze. She is surrounded by floral decals.
This mug is microwave and dishwasher safe. It is approximately 4" tall. You will receive a mug similar, but perhaps not identical, to the one pictured.