---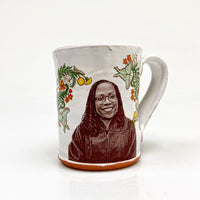 Ketanji Brown Jackson is an American attorney, jurist and Supreme Court nominee serving as a federal judge on the United States Court of Appeals for the District of Columbia Circuit. She was nominated to the Supreme Court of the United States by President Biden today. Prior to her elevation to an appellate court and from 2013 to 2021, she served as a district judge on the United States District Court for the District of Columbia. Jackson was also Vice Chair of the United States Sentencing Commission from 2010 to 2014. Since 2016, she has been a member of the Harvard Board of Overseers.
On September 20, 2012, President Obama nominated Jackson to serve as a judge for the United States district court for the District of Columbia to the seat vacated by retiring Judge 
Henry H. Kennedy Jr.
Jackson was introduced at her December 2011 confirmation hearing by Republican 
Paul Ryan
, a relative through marriage, who said "Our politics may differ, but my praise for Ketanji's intellect, for her character, for her integrity, it is unequivocal."